ON-CAMPUS INSTRUCTION OPTION:
Following discussion at the Board meeting on August 24, Dripping Springs ISD is continuing with its schedule to offer an option of in-person instruction starting Sept. 14, 2020.
In making the recommendation to follow that schedule, Superintendent Todd Washburn reported on factors that were considered such as Personal Protective Equipment, other equipment and supplies, guidance from state and local officials, recent local health data, feedback from the district's COVID Task Force, and responses from parents and teachers regarding intent to return following the four-week remote start.
The option to offer on-campus instruction is based on current conditions of the pandemic in our community. The district will continue to monitor health conditions and be prepared to modify plans.
SAFETY PROTOCOLS:
Health and safety protocols will be implemented on campuses when students return, including wearing of facemasks for all staff and students. Other steps will include: a requirement for students to be screened for temperatures each morning prior to school, social distancing in classrooms and common areas to the greatest extent possible, frequent handwashing, and the use of hand sanitizer between washes.
Rigorous cleaning and disinfecting protocols are being implemented in our buildings, including the use of electrostatic machines. Plexiglass shields have been installed at school reception areas and cafeteria cashier stands. Isolation rooms have been identified near nurse's clinics for students who become ill during the school day.
The district will follow notification protocols if individuals at DSISD facilities test positive for COVID, as outlined by the Texas Education Agency in conjunction with the Department of State Health Services.
For more on the 2020-21 instructional plans, including safety protocols, click here. Additional information on safety protocols and plans for response to a positive COVID case will be shared with parents prior to Sept. 14, 2020.
ENROLLMENT VERIFICATION COMPLETION/UPDATES:
During the enrollment verification process, parents indicated their intent to either send their children in person or to continue remote learning following the initial remote-only period. A small number of parents have not yet completed this process in the Family Access system. If this process is not completed, these students will default to remote learning for the first grading period. The Family Access system will remain open through 5:00 p.m. on Friday, August 28. Those with changes in individual circumstances that impact their learning format selection should contact their child's campus by this Friday. Parents will have the opportunity to change learning formats at the end of the grading period; the deadline to do so will be Oct. 2, 2020.
=====================================

OPCIÓN DE INSTRUCCIÓN EN EL CAMPUS:
Después de la discusión en la reunión de la junta el 24 de agosto, Dripping Springs ISD continúa con su programa para ofrecer una opción de instrucción en persona a partir del 14 de septiembre de 2020.
Al hacer la recomendación de seguir ese horario, el superintendente Todd Washburn informó sobre factores que se consideraron tales como equipo de protección personal, otros equipos y suministros, orientación de funcionarios estatales y locales, datos de salud locales recientes, comentarios del Grupo de Trabajo COVID del distrito y respuestas de padres y maestros con respecto a la intención de regresar después del inicio remoto de cuatro semanas.
La opción de ofrecer instrucción en el campus se basa en las condiciones actuales de la pandemia en nuestra comunidad. El distrito continuará monitoreando las condiciones de salud y estará preparado para modificar los planes.

PROTOCOLOS DE SEGURIDAD:
Se implementarán protocolos de salud y seguridad en los campus cuando los estudiantes regresen, incluido el uso de máscaras para todo el personal y los estudiantes. Otros pasos incluirán: un requisito para que los estudiantes sean evaluados por temperatura cada mañana antes de la escuela, distanciamiento social en las aulas y áreas comunes en la mayor medida posible, lavado de manos frecuente y el uso de desinfectante de manos entre lavados.
Se están implementando rigurosos protocolos de limpieza y desinfección en nuestros edificios. Nuestro personal de conserjes utilizará máquinas electrostáticas para desinfectar las escuelas de manera eficiente. Se han instalado protectores de plexiglás en las áreas de recepción de la escuela y en los puestos de caja de la cafetería. Se han identificado salas de aislamiento cerca de las clínicas de enfermería para los estudiantes que se enferman durante el día escolar.
El distrito seguirá los protocolos de notificación si las personas en las instalaciones de DSISD dan positivo en la prueba de COVID, como lo describe la Agencia de Educación de Texas en conjunto con el Departamento de Servicios de Salud del Estado.
Para obtener más información sobre los planes de instrucción 2020-21, incluidos los protocolos de seguridad, haga clic aquí. Se compartirá información adicional sobre los protocolos de seguridad y los planes para responder a un caso de COVID positivo antes del 14 de septiembre de 2020.

FINALIZACIÓN / ACTUALIZACIONES DE LA VERIFICACIÓN DE LA INSCRIPCIÓN:
Durante el proceso de verificación de la inscripción, los padres indicaron su intención de enviar a sus hijos en persona o continuar con el aprendizaje remoto. Un pequeño número de padres aún no ha completado este proceso en el sistema Family Access. Si este proceso no se completa, estos estudiantes pasarán por defecto al aprendizaje remoto durante el primer período de calificaciones. El sistema Family Access permanecerá abierto hasta las 5:00 p.m. el viernes 28 de agosto. Aquellos con cambios en las circunstancias individuales que afecten la selección del formato de aprendizaje deben comunicarse con el campus de su hijo antes de este viernes. Los padres tendrán la oportunidad de cambiar los formatos de aprendizaje al final del período de calificaciones; la fecha límite para hacerlo será el 2 de octubre de 2020.
---
For community, state and national resources inlcuding parenting resources, on Covid-19, please see DSISD's Covid 19 Information page at https://www.dsisdtx.us/domain/1014 and for more resources, see Information Hub (ictured below; for a pdf with clickable links, click here.)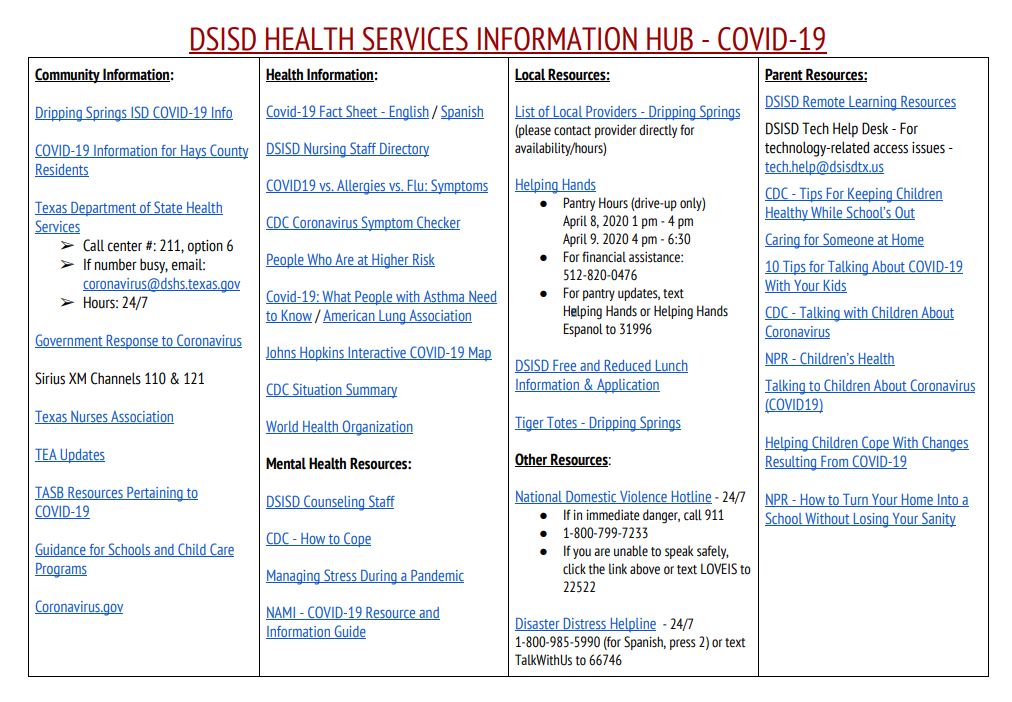 For quick access to resources from The Centers for Disease Control and Prevention (CDC): COVID-19 Parental Resources Kit – Childhood
Social, Emotional, and Mental Well-being of Children during COVID-19
Click below for a comprehensive kit for children of every age